One common misconception people have is that every oral health problem requires a visit to the dentist and while this is not totally wrong, a lot of people fail to see that there are various fields in dentistry. As a result, it makes sense to know what type of dentist you should see depending on your dental problem.
Symptoms of Teeth Problems
These are common symptoms of teeth problem which you should watch out for: 
Pain or sensitivity when eating or drinking.

Bad breath

Facial swelling, especially around the jaw.

Tooth problems like discoloration or loosened teeth.

Gum recession

Prolonged bleeding during brushing or flossing may be signs of gum disease.

Jaw pain or stiffness, headaches, or difficulty chewing.

High fever and chills.

Fatigue and dizziness
If you experience any of these symptoms, it is best to contact your dentist right away for an evaluation.
What are the most common dental problems and what dental professional treats them?
Some of the most common dental problems include: 
Tooth Loss
If you are missing one or more of your teeth, a Prosthodontist who specializes in restoring and replacing damaged or missing teeth can provide treatment options to restore your smile.
Tooth Sensitivity

If you experience sensitivity when eating cold or hot foods, it could be a sign of tooth enamel erosion. In this case, you should visit your general dentist for an evaluation and treatment options.
Cosmetic Dentistry

If you wish to modify or improve the appearance of your smile, a cosmetic dentist can provide treatments such as veneers, tooth whitening and implants.
Chipped or Damaged Tooth
 If you have chipped or damaged a tooth, a dentist can repair it with bonding, fillings, crowns and more.
Misaligned Bite

If your bite is misaligned and causing you discomfort, an orthodontist can help realign the teeth and improve your bite.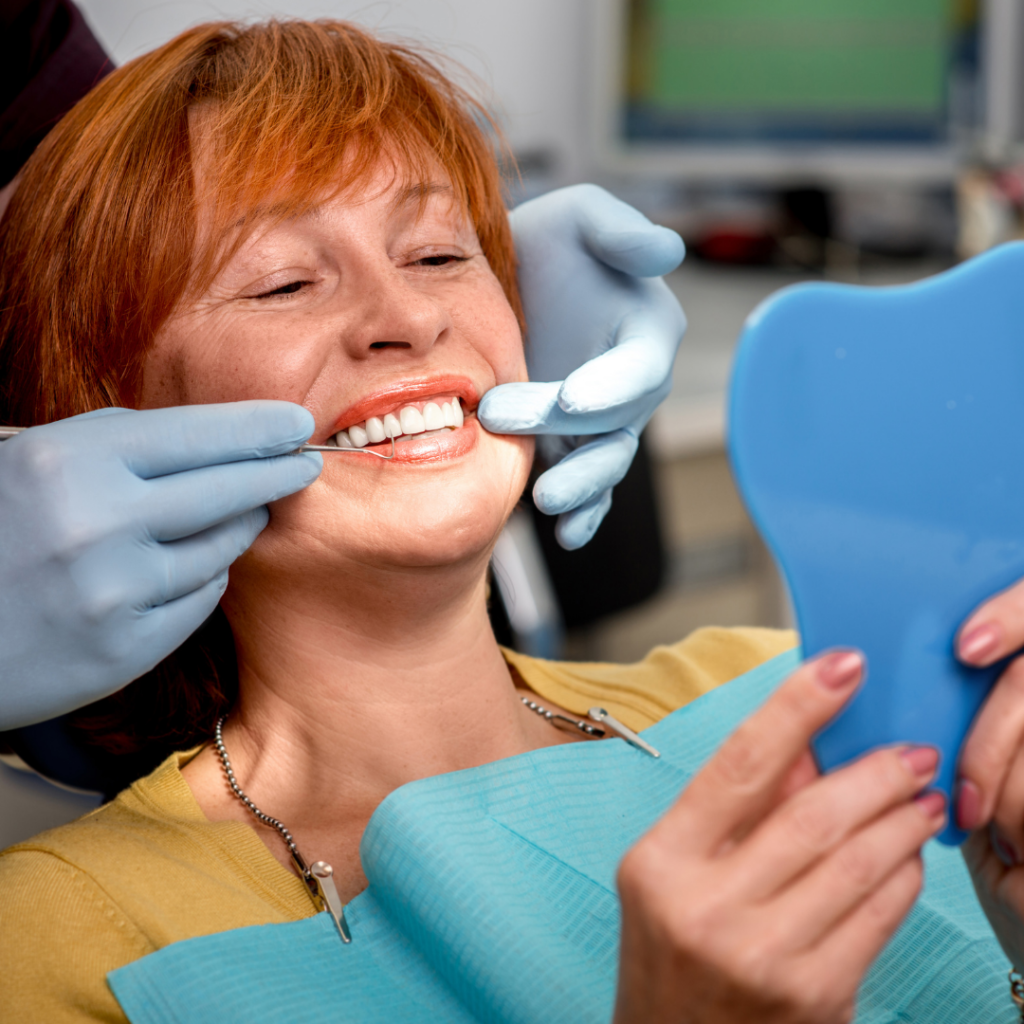 Oral Surgery
Oral surgery may be necessary to treat conditions such as impacted wisdom teeth or jaw misalignment. An oral surgeon is capable of performing these types of procedures safely with minimal recovery time.
Toothaches
A toothache is a common symptom that may be caused by various issues such as decay, cavities, trauma, abscesses or gum disease. In this case, you should visit an Endodontist who specializes in root canals and other treatments for the inside of teeth.
Bad Breath

If you have bad breath (halitosis), a dental professional can provide advice on the best course of action to treat it. This could range from simple lifestyle and diet changes, to medication or other treatments.
Bleeding or Tender Gums

If you have sore, swollen or bleeding gums, it is likely that you are suffering from gum disease. In this case, a Periodontist who specializes in treating and preventing gum diseases should be consulted.
Should you go to a General Dentist or a Specialist?
A general dentist is your main dental practitioner. This dentist will diagnose, treat, and manage your complete oral health care requirements, which may include gum care, root canal therapy, fillings, crowns, veneers, and bridges, as well as preventative education.
Depending on your dental needs, you may require treatment from both a general dentist and a specialist. Your general dentist will be able to address routine issues such as cavities, tooth extractions, and minor cosmetic procedures. If you are in need of more specialized care for periodontal disease or orthodontic treatments, your dentist may refer you to an oral surgeon or other specialist.
Here are some specialists in dentistry and the specific tooth problems you can consult them for:
An Endodontist For Dental Pulp Treatment
An endodontist is a dentist that specializes in caring for the dental pulp, often known as the nerve of the tooth, by investigating any pathogens, making a diagnosis, and providing treatment for any resulting damage or illness. In addition to root canals, this expert may also conduct various surgical root operations, ranging in complexity from easy to complicated.
An Oral and Maxillofacial Surgeon for Surgery on the Entire Face, Mouth, and Jaw Area

An oral and maxillofacial surgeon is a specialist in facial plastic surgery who operates on the face, mouth, and jaw. Injured patients in need of reconstructive or dental implant surgery might turn to oral and maxillofacial surgeons. They help those who have jaw cancer or cysts. They also provide implant placement services. They also conduct basic tooth extractions, complicated extractions including soft tissue, overlaying bone, or residual roots, impacted teeth (particularly wisdom teeth) removal, soft tissue biopsies, tumor removal, implant placement, complex jaw realignment procedures involving facial or bite discrepancies, fractured cheek or jaw bone repair, and soft tissue (cleft palate or lip) repair.
An Orthodontist for Malocclusions (Bad Bites) or Teeth Misalignment
The diagnosis, prevention, early detection, and treatment of malocclusions (also known as "bad bites") of the teeth and related structures are the exclusive expertise of orthodontists. The presence of a missing tooth, an additional tooth, or a misaligned jaw may all contribute to the development of a malocclusion. This expert uses bands, wires, braces, and other permanent or removable corrective equipment and retainers to guide the teeth while they are repositioned via the bone. This specialist works with both children and adults who want to improve their looks and bite.
A Pediatric Dentist for Children
A pediatric dentist is a dental professional who focuses on the prevention, diagnosis, and treatment of oral health issues in children as young as one or two years old and as old as young adults. Decay, missing teeth, crowding, and crookedness are all things this dentist can see and either fix or send you out for. It takes at least two more years of education after dental school to become a pediatric dentist. Specialized training in children's dentistry addresses issues including how to handle a child's changing teeth, how kids learn and grow, and how to treat their unique dental requirements.
A Periodontist for Gum Treatment or Advice
Periodontists are dental specialists who focus on the diagnosis, treatment, and prevention of illnesses affecting the gums and the bone tissue that holds teeth in place (both natural and man-made teeth). This dentist is capable of diagnosing and treating periodontitis and gingivitis (gum irritation) (gum and bone disease).Periodontists are trained to treat gum disease by performing a wide range of treatments, including basic and deep pocket cleanings, root planing, crown lengthening procedures, soft tissue and/or bone grafting, gingival or flap surgeries, soft tissue recontouring or removal (gingivoplasty or gingivectomy), hard tissue recontouring (osteoplasty), and implant insertion.
The Prosthodontist : Large Scale Teeth Replacement Specialist
For extensive dental work, such as the restoration of missing teeth or the repair of damaged natural teeth, patients should see a prosthodontist rather than a regular dentist. When natural teeth have been lost due to injury or extraction, the prosthodontist will employ false teeth in the form of dentures or dental crowns. Prosthodontists are generally known as the type of dentists who specialize in replacing lost teeth and other facial structures with artificial ones.
A Cosmetic Dentist to Enhance Your Smile
A cosmetic dentist is a professional who focuses on improving the aesthetics and functionality of patients' teeth and gums. A cosmetic dentist can fix a wide range of dental issues, including misalignment, spacing, staining, discoloration, damage, loss, and even "gummy smiles," using a wide range of techniques and treatments. Cosmetic dentistry has multiple benefits, including enhanced self-esteem, better oral health, and better function. If you're unhappy with your smile in any way, it's time to make an appointment with a cosmetic dentist.
Answers To Some Other Related Questions
Should I go to the dentist or periodontist?
A qualified dentist may be able to correct or at least alleviate moderate gum disease symptoms. However, a periodontist is the ideal dentist for you to see if your symptoms are mild to severe.
Which specialist will you consult if you have problems with your teeth and gums?
The periodontist is the specialist to consult for all problems concerning the gums in your teeth.
Should I see a periodontist or endodontist?
This depends on what your current oral needs are. You should see a periodontist if you have gum disease or want to get a dental implant. An endodontist should be consulted for any tooth discomfort or infection.
How painful is periodontal treatment?
In a nutshell, no, the treatment causes no discomfort. While the procedure itself may leave you feeling uncomfortable, local anesthetic injections into the affected soft tissues might help dull the pain.
Can you see a periodontist without a referral?
If your general dentist or hygienist notices any signs of gingivitis or quickly advancing periodontal disease during a routine dental examination, they may suggest you see a periodontist. However, a consultation with a periodontist may be sought out without prior referral.
What is the most common dental problem among adults?
According to the American Dental Association, the most common dental problem in adults is tooth decay, followed by gum disease. Other common issues include tooth grinding (bruxism) and dental erosion.